Save the Date for the 2023 International Coastal Cleanup!
Posted on June 11, 2023
---
Enough glass bottles to fill two and a half 18-wheeler cargo trucks…
Enough plastic containers to equal the height of 1,780 Artemis moon rockets…
Enough cigarette butts to stretch longer than the length of the Panama Canal…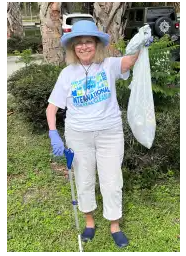 All of that and more was collected by volunteers worldwide during last year's International Coastal Cleanup!
This year, the International Coastal Cleanup – the largest cleanup event on the planet – takes place on Saturday, September 16. On that same day across the world, and right here in Martin County, volunteers will be making a collective impact.
Since the launch of the event in 1986, the International Coastal Cleanup has mobilized millions of volunteers to collect hundreds of thousands of pounds of trash from beaches, shorelines, oceans, and waterways.
Wondering how we stack up in Florida? According to data compiled last year by the Ocean Conservancy, volunteers collected 88,904 pounds of litter. Only five other states gathered more than that!
And what was in that massive collection of marine debris and trash?
69,534 plastic bottle caps
41,855 food wrappers
23,898 plastic bottles
18,770 straws
17,814 plastic bags
15,472 beverage cans
Keep Martin Beautiful, along with Keep America Beautiful affiliates and other coordinators across the country, look at these numbers with frustration and sometimes disgust and think, "It doesn't have to be this way. We can stop the littering. We can do better."
But litter and marine debris is here, now, in our waterways and on our beaches. It's mixed in with the giant seaweed blob that is washing onto our shores every day. It's the result of a combination of items left behind on land, lost off vessels or platforms at sea, and those that get carried away from stormwater runoff.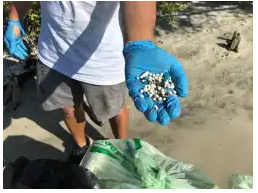 JOIN US for this year's International Coastal Cleanup to help make a positive impact in our little piece of paradise. Everyone is welcome, from families and civic and youth groups to boaters and businesses, all ages, and groups large and small can sign up and receive supplies like t-shirts, buffs, gloves, and bags for collecting litter.
Add September 16 to your calendar, stay connected with Keep Martin Beautiful on social media and sign up for our e-newsletter so you don't miss any International Coastal Cleanup updates.
Sponsorships opportunities are also available. Contact 772-781-1222 or info@keepmartinbeautifuL.org. For more information about Keep Martin Beautiful visit www.keepmartinbeautiful.com